Following the long bus trip back home following last Saturday's 69-67 loss at San Diego State, UNLV guard Anthony Marshall said he found it difficult to sleep that night.
"Couldn't sleep at all," Marshall, who scored a game-high 26 points and grabbed eight rebounds in the last-second loss, said.
The 6-foot-3 junior from Mojave High School said he was continually replaying a number of key plays from the loss in his mind.
"I remember the whole game vividly," Marshall said. "Each possession, each minute. There are a lot of things that could have gone differently."
He also watched highlights from the game on TV.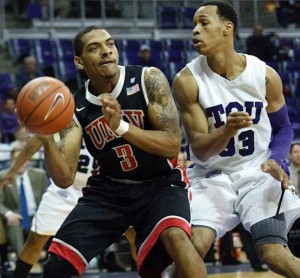 "As soon as I walked into the house, I saw the highlights from the game," Marshall said. "Some people might have turned them off. But that's just the type of person that I am. I read stuff about the game and watch the highlights. There's a positive in every negative. You just learn from it and move on."
Marshall and the 14th-ranked Runnin' Rebels (16-3, 0-1) will try to put together a more favorable set of highlights tonight when they host TCU (10-6, 0-1) at the Thomas & Mack Center at 7:30 p.m. in a game that will be televised on The Mtn. Network.
Marshall says the key now for UNLV is to be able to turn the page on the tough loss to the 16th-ranked Aztecs.
"Good teams bounce back," Marshall said. "You can't have a rollover effect where you take one loss and let it effect the next game. We have a veteran team that has experienced tough losses before so I'm confident that we can learn from that loss and move on."
TCU comes to Las Vegas in a similar position as the Rebels, having lost its Mountain West opener in double overtime at Colorado State, 95-89. The Horned Frogs scored the last 11 points in regulation to force the first overtime.
"We kept them from scoring and came back in two minutes, so it definitely showed how tough we are and how much heart we have, but we didn't get the 'W' so we can't be happy," TCU guard Hank Thorns told the Fort Worth Star-Telegram.
Thorns, a preseason first team all-Mountain West pick and Valley High product who is expected to have about 100 friends and family in the stands tonight, is close friends with Marshall. The two played AAU basketball together for the Las Vegas Prospects and the Dark Edge squads and frequently exchange Twitter messages.
"We're very close," Marshall, who expects to spend some time guarding his buddy, said. "He's like a big brother to me. He came out in the summer and played in open gym with us."
But Marshall said that he will put that friendship aside for about 40 minutes tonight. Thorns sounds prepared to do the same.
"I think we need a (late 1980s) Detroit Pistons-type attitude; we can't come out with smiles," Thorns told the Star-Telegram. "We need to come out with a chip on our shoulder and take everything personal."
With a showdown with preseason Mountain West favorite New Mexico on deck Saturday, Dave Rice's squad can ill afford a home slipup against the Horned Frogs.
"We have a great coaching staff," Marshall said. "They're not going to let (the San Diego State loss) have a rollover effect."
Related Articles
Share
About Author
(0) Readers Comments