Just when you thought you'd seen everything with this year's UNLV basketball team …
A roller coaster season that started with impressive wins over future Big Ten champion Indiana and Pac-12 champ Oregon, featured the surprising mid-season firing of head coach Dave Rice, a devastating season-ending knee injury to forward Ben Carter and the late suspension of freshman star Derrick Jones Jr. found the Runnin' Rebels fighting for their Mountain West Tournament lives on Wednesday afternoon with a lineup that included seldom-used walk-ons Barry Cheaney and Austin Starr.
Somehow, UNLV (18-14) found a way to last another day, grinding out a wild 108-102 triple overtime victory over Air Force (14-18) at the Thomas & Mack Center.
"It's been a theme for us all year, even in the face of any adversity or anything these guys are facing," interim head coach Todd Simon said. "We constantly preach poise and control what you can control. And they displayed great hardness as we like to call it. Nothing rattled them."
The Rebels' reward is a quarterfinal game against second-seeded Fresno State (22-9) on Thursday night at 6 p.m. The Bulldogs swept UNLV during the regular season, including a memorable 111-104 double overtime win on Feb. 6 at Save Mart Arena that saw Rebel freshman star Stephen Zimmerman Jr. limp off with a knee injury.
Big Zimm is back now but the former McDonald's All-American played just 17 minutes against the Falcons, fouling out with 8:46 to go in regulation with just two points, two rebounds and three steals.
He was joined on the bench a few minutes later by freshman guard Jalen Poyser and in the second overtime by starting guard Jordan Cornish (20 points, 5-of-7 3-pointers) leaving Simon to have to go with just three scholarship players down the stretch along with Cheaney and Starr.
But those scholarship players – senior Ike Nwamu, sophomore guard Patrick McCaw and senior point guard Jerome Seagears – stepped up big time.
Consider:
* Nwamu finished with a career-high 38 points, including 13 in the final overtime, while playing the entire 55 minutes. He also grabbed eight rebounds and was 16-of-19 at the free throw line.
* McCaw finished with 27 points to go along with 14 rebounds and made several key defensive plays. He also played the entire 55 minutes.
* Seagears, who was noticeably cramping during the overtime, finished with 13 points, tied his career-high with nine assists, grabbed eight rebounds and had three steals in 54 minutes of action.
"We had some incredible individual efforts," Simon said. "Guys stepping up and, you know, gave everything they had for 55 minutes as a group. Couldn't be more proud of these Runnin' Rebels."
(STORY CONTINUES BELOW)


But the real heroes may have been Cheaney and Starr.
Cheaney, a late add-on this season who is headed to medical school next year, finished with two points, two rebounds and a key steal at the end of the second overtime in 19 minutes of action. That's two minutes and one rebound more than he had for the entire season when he scored a total of three points.
Starr played nine minutes and sank 3-of-4 free throws in the final overtime to help deny another Air Force comeback attempt.
"We talked about (how) it was an epic battle and the pride that I have in them for continuing to dig in and find it, and for guys stepping up," Simon said when asked what he told his squad afterward in the locker room. "You get 28 minutes out of Barry and Austin. It's the next man up mantra. As a coach it makes you emotional. What more could you ask than to have a group that's gone through everything like this, and to still believe and still hang on what you're saying to them and buy in and then to give everything, every ounce of what they have."
Now the challenge is coming right back to play a rested Fresno State squad that has defeated them four of the last seven times they've played.
"We're just going to turn the page and start preparing for Fresno," Nwamu said. "We're not going to really think about how tired we are because you don't get an asterisk if you're complaining about being tired. We're just going to get our feet up, get hydrated and then we'll be ready to go tomorrow."
NOTABLE: The two teams combined for 64 fouls with eight players fouling out, including five from Air Force. … Guard Jacob Van scored 37 points to lead Air Force, a Mountain West tournament record for a sophomore. … UNLV set a MW Tourney record for made free throws in a game, connecting on 34-of-44 attempts. … Nwamu's 38 points were a tournament record for a first round game.
Click on Box Score Below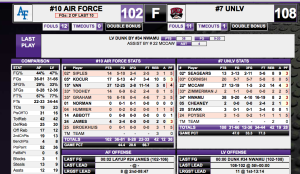 Related Articles
Share
About Author
(0) Readers Comments