UNLV coach Dave Rice apologized for being late to his post-game press conference following Friday night's 94-57 exhibition victory over Division III Whittier College.
The Runnin Rebels coach wasn't very happy with the way his team, which bolted out to a 53-27 halftime lead against the overmatched Poets, coasted to the finish line in sloppy fashion, turning the ball over 12 times in the second half alone and also allowing 17 offensive rebounds to an undersized Whittier squad shy two of its top players.
"We had a few defensive rebounding issues and turnover issues in the second half to discuss as a team," Rice said. "Certainly was disappointed with the way we took care of the ball in the second half. … Three assists and 12 turnovers in the second half is not going to get it done. I don't think it was a selfish issue at all. We were just trying to hit too many home run plays."
UNLV also barely won the battle of the boards, 43-41, against the Poets, whose tallest starter – Mike Jones-Mensah – was just 6-foot-6 and only played eight minutes before fouling out.
"We can't give up 17 offensive rebounds," Rice said. "We didn't come close to doing a good enough job on the defensive boards."
Still, as one would expect after a 37-point victory, there were some positives for the Runnin' Rebels.
* Highly touted 6-foot-11 freshman forward Stephen Zimmerman from Bishop Gorman posted a double-double (13 points, 11 rebounds) and also had four blocks and two steals in 28 minutes of action.
* High-flying freshman forward Derrick Jones scored a game-high 20 points and had four steals and drew comparisons to former Runnin' Rebel great Shawn Marion from Rice.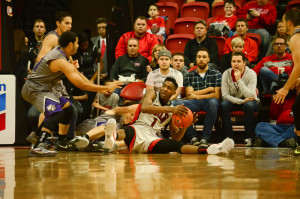 * Senior point guard Jerome Seagears, who had to sit out last season after transferring in from Rutgers, finished with 11 points on 4-of-7 shooting and also dished out seven assists to go along with two turnovers.
* Senior guard Ike Nwamu, a transfer from Mercer who looks like he could bench-press the Thomas & Mack Center, scored 12 points and connected on 3-of-7 3-pointers.
* Sophomores Patrick McCaw (9), Dwayne Morgan (9) and Jordan Cornish (8) also flirted with double-figures.
* The Rebels were 20-of-26 at the free throw line (76.9 percent), shot 51.6 percent from the floor and finished with a commanding 50-18 edge in points in the paint.
"I just think we've got have to have a sense of urgency," Rice said. "We've got a tough game (Cal Poly) coming up on Friday and a very challenging schedule. … We can't have make all those turnovers in the second half and we can't give up that any offensive rebounds if we are going to the kind of team that we think we have the chance to be."
UNLV opens the regular season on Friday at the Thomas & Mack against Cal Poly at 7 p.m.
PHOTOS BY DANIEL WARD
Related Articles
Share
About Author
(0) Readers Comments