Three games. Three impressive wins.
It's fair to say the Todd Simon era as UNLV (interim) head coach is off to a nice start.
The Runnin' Rebels, who were battling San Jose State for last place just nine days earlier, moved into a tie for fourth place in the Mountain West Conference with a 80-68 victory over Utah State on Tuesday night in Logan, Utah.
UNLV (12-7, 3-3 MW) is now tied with Fresno State and Wyoming for fourth a half-game behind third place New Mexico (3-2) heading into Saturday night's showdown at in-state rival Nevada (10-7, 2-3), which plays at Wyoming (10-9, 3-3) on Wednesday night.
A win over the Wolf Pack and things could get real interesting for the Runnin' Rebels. UNLV then returns home to host second place Boise State (13-5, 4-1) and first place San Diego State (13-6, 6-0) in back-to-back games.
HOW IT HAPPENED: The contest, which featured 14 lead changes and 10 ties, was close for a half as the host Aggies went into halftime with a 36-35 lead thanks to a late jumper by guard Shane Rector. But UNLV opened the second half with a 21-2 run to take control and Utah State (11-7, 3-4) never got closer than eight points the rest of the way.
WHO STOOD OUT: For the second straight game freshman forward Derrick Jones Jr. was a highlight reel, scoring a game-high 21 points on 10-of-15 shooting while fellow freshman forward Stephen Zimmerman Jr. finished with his eighth double-double, scoring 12 points, grabbing a career-high 16 rebounds and also blocking four shots. Sophomore guard Jordan Cornish keyed the second half run with back-to-back 3-pointers en route to 10 points while sophomore forward Dwayne Morgan finished with 13 points, connecting on 6-of-7 shots.
THE SKINNY: Utah State's best player, 6-8 sophomore David Collette, who scored 41 points in two games against the Rebels last season as a freshman including 17 in a 83-65 win at the Dee Glen Smith Spectrum, quit the team two days before the season opener and later transferred to Utah or this might have been a lot more interesting. Credit UNLV for taking advantage and attacking the Aggies with Morgan and Jones inside. The Rebels finished with a 46-28 edge in points in the paint while also tying their season high with eight blocks.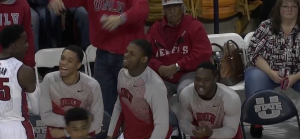 QUOTES TO NOTE:
Cornish on getting revenge for last year's 83-65 loss to the Aggies in Logan:
"We had this game circled on our schedule. You know, they beat us by (18) here last year and we wanted to come in here and make a statement."
Simon on what he said to his team at halftime:
"We got back to focusing on who we are. We're a defend, rebound (and) run team – attack on both ends. Pressure has got to be 94-feet strong. We need to be an attacking team on offense. We want to touch the paint a whole lot. We need to be letting it go on some of these threes when we're getting our feet set. And attack the glass. We do all those things we're an effective team."
UP NEXT: The Rebels travel to Reno on Saturday night to face the Wolf Pack in the Governor's Series at 7 p.m. The contest will be televised on ESPNU.
NOTABLE: Zimmerman had four blocks for the third consecutive game. … Morgan's 13 points were a season high. … UNLV finished with a 23-2 edge in fast break points. … The Rebels were 0-of-5 from 3-point range in the first half and finished 4-of-13 beyond the arc (30.8 percent). … Sophomore guard Patrick McCaw finished with just four points on 2-of-5 shooting but dished off a game-high six assists to go along with four steals. … UNLV shot 60.7 percent (17-of-28) in the second half and 53.4 percent for the game.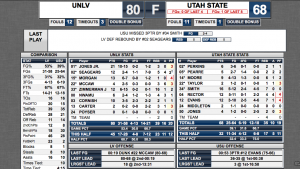 Related Articles
Share
About Author
(0) Readers Comments