UNLV may be running out of healthy players but the Runnin' Rebels showed Saturday night they still have plenty of heart left.
Despite suiting up just six scholarship players and needing a dramatic buzzer-beating 28-foot floater by sophomore guard Patrick McCaw to force overtime, the Runnin' Rebels pulled away for a 102-91 victory over in-state rival Nevada at the Thomas & Mack Center.
This time it was starting forward Dwayne Morgan who watched from the bench with his right arm in a sling after separating his shoulder during a drill at the team's pre-game shoot-around, joining 7-foot freshman star Stephen Zimmerman Jr. and forward Ben Carter (knees) in street clothes.
UNLV took control with a 11-2 run to start the extra period highlighted by 3-pointers by sophomore guard Jordan Cornish and senior guard Jerome Seagears. The Runnin' Rebels outscored the Wolf Pack, 22-11, in the extra period including several fast-break dunks that worked the crowd of 14,640 into a frenzy.
"Obviously, very, very gratifying, more-so for the guys," UNLV interim head coach Todd Simon said. "To sit in the locker room and to see the moments of their hard work pay off … We've really had about a decade's worth of adversity in three weeks."
HOW IT HAPPENED: The game, which featured 15 ties and 18 lead changes, see-sawed back-and-forth until Nevada senior guard Marqueze Coleman hit a 3-pointer with 2.4 seconds left to give Nevada a 80-77 lead and seemingly the win. But McCaw immediately took the inbounds pass in front of the Wolf Pack bench, raced toward midcourt and sent the game into overtime with his 28-footer at the buzzer.
Check out VIDEO of the dramatic final seconds regulation below:
You will NOT believe how regulation ended between Nevada and UNLV. pic.twitter.com/K2bJzBzf4C

— CBS Sports Network (@CBSSportsNet) February 21, 2016
WHO STOOD OUT: McCaw scored 25 points and pulled down a career-high 18 rebounds while Seagears finished with a season-high 21 points, including 5-of-11 3-pointers, and Cornish added 17 points for UNLV (16-12, 7-8 MW), which won for the third time in four games. Senior guard Ike Nwamu scored 13 points and had eight assists while freshman forward Derrick Jones Jr. finished with 14 points, eight rebounds and four blocks for the Rebels.
Coleman scored a game-high 31 points and grabbed 10 rebounds for his first career double-double to lead Nevada (16-10, 8-6). Freshman forward Cameron Oliver finished with 14 points and 21 rebounds and sophomore guard Eric Cooper added a career-high 24 points for the Wolf Pack, who had a three-game winning streak snapped.
QUOTES TO NOTE:
McCaw on his buzzer-beating 3-pointer to force overtime:
"I just knew that that I had to make a move quick. I knew if I got straight to the middle I might get a straight-on shot. … There wasn't any doubt. I knew it was going in before it left my hand."
Simon on pulling out the overtime victory with just six scholarship players:
"Couldn't be more proud of the group. We have six guys that just keep digging in. … It just shows the character of this group."
Simon on the shoulder injury suffered by starting forward Dwayne Morgan during the team's pre-game shoot-around:
"It was really a fluke deal. Really didn't know what happened at first. He came down and was kind of holding it and you look … it's kind of the way it's been going for us."
UP NEXT: The Runnin' Rebels travel to Boise State for a Tuesday night game that will be televised by ESPNU starting at 8 p.m. PT.
NOTABLE: Cornish, McCaw and Coleman played the entire 45 minutes in the contest. … UNLV improved to 12-2 when scoring 80 or more points this season. … It was the fifth time this season that UNLV scored 100 or more points in a game. … Nwamu's eight assists tied a career high. … Seagears had zero assists in 38 minutes of action and now has committed just 18 turnovers over his last 14 games. … Despite the size disadvantage up front, UNLV finished with a 40-36 edge in points in the paint.
PHOTOS BY SAM MORRIS/LAS VEGAS NEWS BUREAU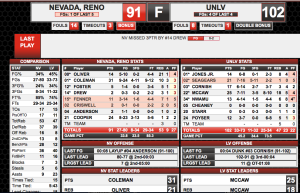 Related Articles
Share
About Author
(0) Readers Comments