On a night when Christian Wood registered his 12th double-double of the season, senior Jelan Kendrick played perhaps his best game in a UNLV uniform and freshman Patrick McCaw had another sparkling performance, Runnin' Rebel coach Dave Rice singled out a backup who played just four minutes as the key in a 74-63 victory over Air Force on Saturday night at the Thomas & Mack Center.
"I thought Dantley Walker changed the game," Rice said of the seldom-used 5-foot-11 crowd favorite from Lincoln County High School in Panaca.
Walker's stat line – 4 minutes, 3 points, 1 assist, 1 rebound – was hardly awe-inspiring. But on a night that Rice admitted his team came out flat and was struggling against a Falcons' squad minus arguably its two best players in injured Kamryn Williams and scoring leader Max Yon, it was enough to get the Rebels and the announced crowd of 13,137 charged up.
UNLV (13-9, 4-5 Mountain West) ended the first half on a 6-0 run en route to a 29-24 halftime lead with Walker assisting Kendrick for one basket and sinking a 3-pointer a few seconds before the buzzer to give the team some positive energy heading into the locker room.
"The assist, the energy, the 3-point shot – it changed the game, it changed the momentum," Rice said.
(Check out Barry Wong's first half highlights including Walker's assist and 3-pointer below):
"It's totally different," McCaw, who finished with 11 points, six assists and just one turnover, said of the atmosphere when Walker entered the game. "When Dantley gets on the floor he gets the most applause out of everybody. He gives it a little spark and he makes the game fun."
The former Parade All-American and leading prep scorer in Nevada history as a senior (3,034) had played just 51 minutes and in only eight of UNLV's 21 games when Rice summoned him with the Rebels down 24-23 after a pair of free throws by Trevor Lyons.
"I thought there might be a good chance I might get in there for a minute," Walker said. "They were playing zone the whole game. I just get mentally prepared to get ready to go and play as hard as I can. It worked out pretty well."
The Rebels led at halftime despite firing up a stunning 17 3-pointers (making six) and getting outrebounded 18-13 by the Falcons (9-12, 2-8). But UNLV did force 10 Air Force turnovers that resulted in a 17-0 points off turnovers advantage at halftime.
"I was very concerned with our locker room before the game," Rice admitted. "I thought we were a little bit flat and we started the game out that way. … We settled for too many 3's to start the game."
The Rebels focused on getting to the basket in the second half. The 6-foot-11 Wood had 11 of his game-high 17 points in the second half and also finished with a game-high 10 rebounds and two blocks. Kendrick drove through the Air Force zone for four different baskets down the stretch and finished with 15 points, five rebounds, five assists and two steals.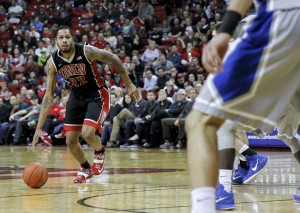 "I thought that JK played his most complete game of the season, and that's coming off the great game he played in Reno," Rice said.
Rashad Vaughn and Cody Doolin each added 11 points for the Rebels who shot 46 percent, committed just five turnovers and led by double digits for most of the second half.
UNLV now gets a week to rest up before starting the second half of Mountain West play with a difficult road game at Colorado State (19-3, 6-3).
"Very, very good win for us," Rice said. "With the week off, it's an opportunity to get better."
Related Articles
Share
About Author
(0) Readers Comments