Tony Sanchez had less than two months to put together a coaching staff and his first recruiting class days after leading Bishop Gorman to its first mythical national championship 14 months ago.
With a full year to recruit this time around, Sanchez and company sent notice that they will be a force to be reckoned with.
UNLV's 23-player class announced Wednesday, which includes 15 high school players and seven midyear JC transfers, was ranked in the top five of the conference by two recruiting services and on paper appears to be the school's best in over a decade.
Rivals.com ranked UNLV's class fourth in the Mountain West behind Boise State, Colorado State and San Diego State while 247Sports/CBS Sports Network had the Rebels fifth behind Boise State, Colorado State, San Jose State and San Diego State. Rivals also ranked UNLV's class No. 70 nationally while 247Sports had the Rebels 82nd.
Whether that translates into a bowl game or a conference title in the fall remains to be seen. But Sanchez believes the Rebels have closed the gap talent-wise to at least be in the conversation.
"In nine of the 12 games we played last year, we won three of them and the other six were seven-point games in the fourth quarter," Sanchez said. "Not that far away. This class has to help us bridge that gap. … We're not that far away. We're excited about it."
Ten players garnered three stars (on a scale of five) from Rivals, breaking the school record of eight set in 2009 and second only to Boise State's 12. But before proclaiming this as the best class in school history it should be remembered Internet scouting services weren't around when Harvey Hyde was beating schools like Notre Dame, USC and UCLA for the late Kirk Jones, widely regarded as the top running back prospect on the west coast his senior year at Long Beach Poly, or USC for a future Hall of Fame quarterback named Randall Cunningham.
Sanchez did land two highly touted quarterbacks in Johnny Stanton (6-2, 235), a mid-year transfer and junior college All-American at Saddleback College (Mission Viejo, Calif.) who was a bounce-back from Nebraska where he played for current Rebel offensive coordinator Barney Cotton but appeared in just two games after redshirting, completing one pass for six yards.
"Johnny Stanton is an absolute gem," Sanchez said. "He's a winner."
The Rebels also picked up one of the top high school quarterback prospects on the west coast, Armani Rogers of Los Angeles Hamilton High School, who was actually was rated a four-star recruit by ESPN.com. The 6-foot-5, 205-pound Rogers, who has drawn comparisons to former UNLV star Jason Thomas and has been timed at 4.72 in the forty, originally committed to Cal before his senior year after leading the Yankees to the Los Angeles City Division II title.
"He has a special career ahead of him," Sanchez said. "He's a big-armed, strong kid who is a dual-threat guy. … His ability, size and arm strength point to a tremendous future."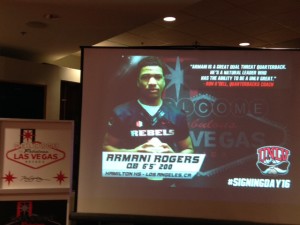 Sanchez was unable to convince the top four prospects in Las Vegas – Desert Pines DE Anthony Smith (Colorado State), Desert Pines OL Samuel Poutasi (Oregon), Legacy OLB Derriyon Shaw (Boise State) and Arbor View OL Keenan King (Washington State) – to stay home but did land three highly regarded local offensive line prospects in Bishop Gorman's Jaron Caldwell (6-4, 315) and Julio Garcia II (6-3, 325) and Coronado's Donovan Outlaw (6-3, 290).
Sanchez also signed three tight ends to help fill a big void at that position and inked junior college punter/placekicker Evan Pantels to replace Logan Yunker at punter.
"We're becoming a more physical team and we're recruiting to that," Sanchez said. "In the future I think you are going to see just that: a more physical football team, a more explosive football team, a team that's hungry and ready to compete and win games. And this class is kind of the cog that needs to start that."
UNLV 2016 FOOTBALL RECRUITING CLASS
HIGH SCHOOL SIGNEES
NAME POS HT WT CL-EXP HOMETOWN
Matt Brayton OL 6-3 300 FR-HS Monrovia, CA
Jaron Caldwell OL 6-4 315 FR-HS Las Vegas, NV
Andre Collins Jr. WR 6-4 200 FR-HS Hacienda Heights, CA
Tykenzie Daniels DB 5-10 185 FR-HS Richmond, TX
Giovanni Fauolo TE 6-2 250 FR-HS Oakley, CA
Julio Garcia II OL 6-3 325 FR-HS Las Vegas, NV
Toa Iafeta DL 6-4 270 FR-HS San Jose, CA
Rodney Jones DL 6-4 240 FR-HS Stockton, CA
Donovan Outlaw OL 6-3 290 FR-HS Henderson, NV
Armani Rogers QB 6-5 210 FR-HS Los Angeles, CA
Mekhi Stevenson WR 6-0 180 FR-HS Lemon Grove, CA
David Tate Jr. LB 6-2 220 FR-HS Fresno, CA
Leevel Tatum III DL 6-0 270 FR-HS Fresno, CA
Elijah Trosclair WR 6-2 185 FR-HS Sacramento, CA
Charles Williams RB 5-10 175 FR-HS Fresno CA
JUNIOR COLLEGE SIGNEE
NAME POS HT WT CL-EXP HOMETOWN
Evan Pantels P/PK 5-10 180 SO-TR Suwanee, GA
JUNIOR COLLEGE MIDYEAR ADDITIONS
NAME POS HT WT CL-EXP HOMETOWN
Michael Adams* DB 6-2 210 JR-TR Bay Point, CA
Michael Chevalier* OL 6-3 300 JR-TR San Diego, CA
Tim Holt* TE 6-2 230 JR-TR Yorba Linda, CA
Robert Jackson* DB 6-2 200 JR-TR Fort Myers, FL
Trevor Kanteman* TE 6-4 240 JR-TR Woodland Hills, CA
Brian Keyes* LB 6-1 245 JR-TR Surprise, AA
Johnny Stanton* QB 6-2 235 JR-TR R.S. Margarita, CA
*Already Enrolled at UNLV

Related Articles
Share
About Author
(0) Readers Comments