It's being billed as "A New Era" of UNLV football. And the opening day of spring practice under new head coach Tony Sanchez had a lot of similarities to his days 15 minutes west at 2014 national champion Bishop Gorman High School.
Practices were lively, fast-paced and energetic. A new state-of-the-art sound system blasted everything from Springsteen's "Glory Days" to AC/DC. And unlike recent years, fans and media were actually encouraged to sit and watch.
Two hours and 30 minutes later, Sanchez was asked how he thought things went.
"I thought overall I'd probably give it a B-minus," Sanchez said. "It wasn't a terrible day and it wasn't by far going to be our best day. But I liked the way our kids worked and the attitude they brought out there."
Hear what else Sanchez had to say in the VIDEO below:
Perhaps the only thing more impressive than the sunny 80-degree weather was the turnout, especially from perspective recruits.
Jimmy Morimoto, UNLV's Director of Player Personnel and assistant recruiting coordinator, said there were around 40 prospects at the practice. About 18 players from Bishop Gorman were on hand to watch their old head coach, including starting quarterback Tate Martell, electrifying wide receiver Tyjon Lindsey and explosive running back Biaggio Ali Walsh, all members of the Gaels' standout sophomore class.
Walsh, who like many Gorman players took a tour of the campus and facilities beforehand, received the first of what will likely be many scholarship offers from Sanchez.
"As I was walking out of his office, he grabbed me by my shirt and looked at me and said, 'Congratulations on your first (scholarship) offer. I said 'Wow' and 'thank you,' and we shook hands. I was very proud. I felt like my hard work had paid off. From here on out I just hope for the best when it comes to offers and football itself and also the classroom."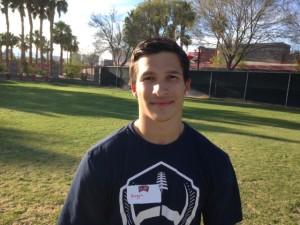 Walsh, the grandson of former heavyweight champ Muhammad Ali, had the fastest forty time (4.41) at the The Opening Los Angeles Event (formerly known as the Nike Football Combine) last week, averaged 12.1 yards last season, rushing for 595 yards and 10 touchdowns on just 49 carries.
"This school, Sanchez is definitely going to turn them around," said Walsh, who plans to attend a summer camp at Notre Dame and has strong interest in USC, where his uncle (by marriage) Curtis Conway starred. "I've gotten a lot of letters from different schools like Miami, Louisville, Mississippi, Oregon as well as USC and Notre Dame. It's still early yet. I'm not even an junior yet."
I'm blessed to say I've just received my first offer from UNLV! pic.twitter.com/FjZ4Q3uuwi

— Biaggio Ali Walsh (@BiaggioAli1234) March 16, 2015
The 5-foot-11, 180-pound Martell passed for 2,547 yards and 40 touchdowns with just two interceptions and also ran for 433 yards and five TDs. He was one of just five quarterbacks nationally to be selected to the Tom Lemming's sophomore All-American squad on the CBS Sports Network's Lemming Report.
"He kind of reminds me of a cross between Russell Wilson and Johnny Manziel," Lemming said. "Tremendous throwing the ball on the run. He's got a quick release and he can really zip the ball. He causes defenses a lot of problems when he decides to tuck and run also. He's a complete package as a quarterback and he proved it against some of the best high schools in the country."
Martell, who recently re-opened his recruiting after verbally committing to Washington as an eighth-grader, said he is considering USC, Arizona State, Washington, Texas Tech and UNLV, all of which have offered scholarships.
The 5-foot-8, 165-pound Lindsey, who caught 34 passes for 884 yards and 15 TDs, said he also is looking at the Rebels along with USC, Oregon, Stanford, Washington and UCLA.
Whether Sanchez can convince some of his old stars to sign eventually with UNLV remains to be seen. But, unlike the previous coaching staff that rarely stopped by Gorman, he's at least trying.
UNLV continues spring practice on Wednesday at 4 p.m.
Related Articles
Share
About Author
(0) Readers Comments